If you've encountered the frustrating issue of "Low value content" leading to a rejection of your site on Google Ad Manager, you are not alone. Many website owners have faced this challenge, but with the right approach, you can improve your site's content and user experience to obtain approval for monetization with Google. In this post, we will explore the key tasks you can perform to overcome the problem of low-value content and increase your chances of getting the green light from Google.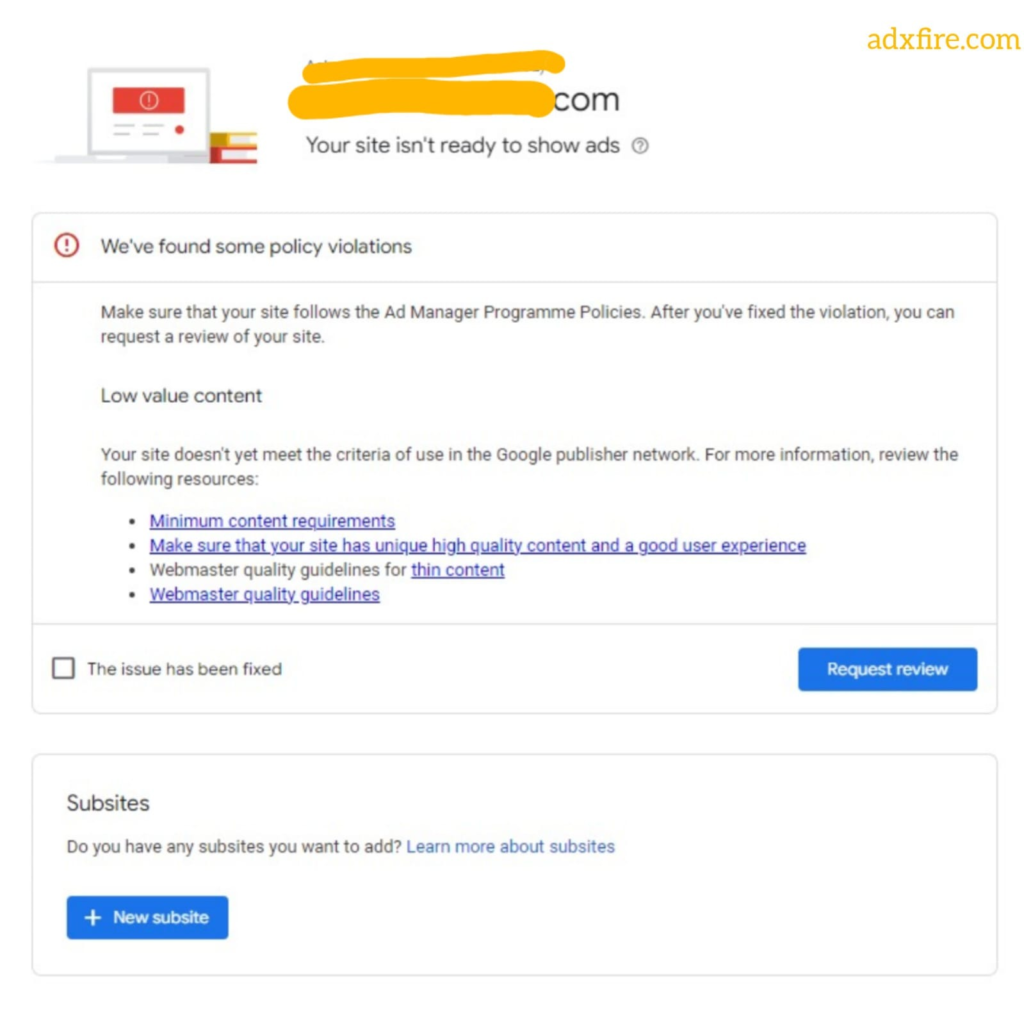 Understanding the Requirements
Before diving into the solutions, it's essential to understand the official requirements set forth by Google. These guidelines are critical to ensure that all publishers meet the criteria for the Google publisher network. Some of the minimum content requirements include having unique high-quality content and providing a good user experience. Google also emphasizes adherence to webmaster quality guidelines for avoiding thin content and ensuring that your website or app meets contractual requirements, including the Google Ad Manager Partner Guidelines and the Google Publisher Policies.
Tips for Getting Approved in the Second Round Review
If your site has been rejected due to low-value content, don't lose hope. By applying the following tips that have helped others succeed in the second round review process, you can improve your site and increase your chances of approval:
Check and Optimize "robots.txt" and "sitemap.xml": Ensure that your "robots.txt" file allows search engines to crawl essential pages on your site. Also, verify that your "sitemap.xml" file accurately reflects your site's structure, enabling Google to discover all your key pages.
Index All Posts: Create a Google Search Console account and index all the posts on your site. If your site is relatively new, it might not be indexed yet. Aim for a minimum of 25 indexed results to improve your site's visibility.
Enhance Content Readability: Make your content more user-friendly by keeping paragraphs under 150 words, incorporating subtitles, using simple language, and keeping sentences concise (20 words or less).
Use Relevant Tags: Tag each post with three or four key topics to help search engines understand the content and improve its visibility.
Publish Sufficient Content: Aim for at least 15 published articles, with a recommended word count of 300 words per article.
Ensure Uniqueness: Avoid using copied content, as Google values unique content. Check for plagiarism using tools like QuillBot to ensure your content is original.
Include Images: Add images to your articles, but avoid copyrighted ones. Use free photo providers like Pexels to find suitable images for your content.
Attract Traffic: Google favors sites with active traffic. Use Google Analytics to track traffic and visitors' behavior. If you are using WordPress, it provides its own traffic statistics in the dashboard.
Optimize for SEO: Utilize SEO optimization techniques to improve your site's visibility in search engine results. WordPress users can benefit from free plugins like Yoast SEO for automatic optimization.
Add a Unique Logo: A distinct logo helps represent your site's identity. Use free online tools to create a simple yet unique logo.
Choose an Attractive Theme: Avoid using default themes and opt for visually appealing, free themes available on platforms like WordPress, such as "BIMBER" or "News Hunt."
Create Eye-catching Titles: Increase the size of your post titles and include at least 10 words to describe the content. Highlight the titles to make them stand out from the rest of the content.
Conclusion
Obtaining approval for Google Ad Manager may seem daunting, especially if your site has been rejected due to low-value content. However, by following these tips and guidelines, you can significantly improve your site's content quality and user experience, thereby increasing your chances of success in the second round review process. Remember to focus on providing unique, valuable, and user-friendly content that aligns with Google's guidelines. With dedication and persistence, you'll be on your way to monetizing your site with Google Ad Manager and maximizing your revenue potential.